Jewellery Moves
Create your own personalised, silver jewellery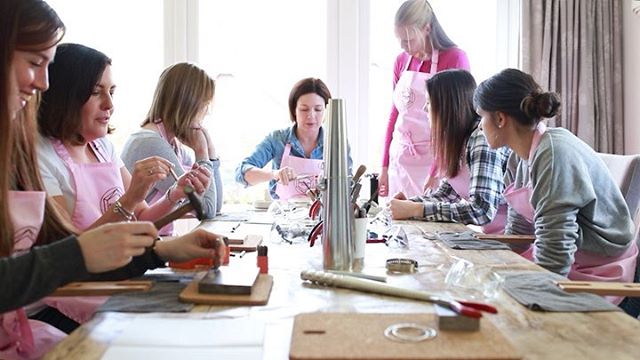 Hi, I'm Fiona and run 'pop up' jewellery workshops throughout Hampshire. I champion the idea that 'the experience is as precious as the jewellery you make' and a belief that you can 'make jewellery anywhere'.
I am turning the idea of learning jewellery skills at a traditional workbench on its head. Instead my workshops take place around a table with everyone facing each other and sharing tools as well as conversation (like a dinner party only with no food but instead beautiful jewellery).
At a Jewellery Moves workshop you can learn traditional craftsmanship, jewellery skills and techniques in small groups in a relaxed atmosphere.
Pop Up Workshops
Taking place at various venues throughout Hampshire, Wiltshire and Berkshire.
Popular with individuals and groups of friends

Small groups in a relaxed atmosphere

Workshops last 3 hours

Learn to make rings, earrings, necklaces and bangles

Take home a personalised piece of silver Jewellery
At Home Workshops
Completely mobile workshops, so they can come to you - all you need is a table.
Up to 6 people per workshop

Workshops last 3 hours

Learn to make rings, earrings, necklaces or bangles

Perfect for groups of friends, parties and coffee mornings

Keep the items you make
100% Handmade Commissions
There is always an opportunity for jewellery to tell a story. Why not tell yours today.
"Fiona is extremely professional and a very patient teacher! Thank you, I really enjoyed the session."
— Clarrisa, Ring Workshop Attendee
Gift Vouchers Available
A gift voucher from Jewellery Moves makes a perfect gift for a loved on. Gift voucher values start from £25; get in touch for more details.